"We are still high, dry and have power. The creek is now a fast running river. But at least it is running downhill and away from us. The most important thing is the water is running AWAY!!! Thank you for awesome drainage. Proof that development of this subdivision was excellent." ~ Lorraine (a Fulshear Run resident during the storm)
10 Things You Will Love About Fulshear Run
It's the Best of Town and Country Living
New homes located in Fulshear Tx with a green and growing community away from the bustle, but with the charming
touches of small town life! You've found it all at Fulshear Run.
Home Sites with Plenty of Elbow Room
Fulshear Run gives you a choice of some of the largest home sites in the area offering
city utility services – from ½ acre to more than one acre in size.
Unique Homes that Enhance Your Lifestyle
A home to fit your dreams is waiting for you here at Fulshear Run. Choose from the beautiful, distinctive homes from Partners in Building and Tri Pointe Homes.
Open Spaces to Beckon You
Fulshear Run has been planned to preserve our hills and open spaces, woods and prairies, creeks and ponds for your family's enjoyment.
And you can look forward to our vineyards and olive groves growing to fruition.
The Cool Perks of Parks
Enjoy the solitude and beauty of Song Bird Park or dangle a line in the waters of Fish Lake Park.
Gorgeous Tall Trees
Tall trees are part of what we love and protect on the land here at Fulshear Run.
From pecans to oaks and more, we know you'll love them, too.
Our Own Stock Market
What a fresh idea! Right-from-the-farm veggies, fruits and meats available within walking or cycling distance,
every Saturday Morning at the Fulshear Farmers' Market, at the entrance of Fulshear Run.
Fun Events Like the Farm and Vineyard Faire
Fulshear Run residents and visitors from the entire area have enjoyed events such as the Fulshear Run Farm and Vineyard Faire.
First Class Schools
Huggins Elementary School, Dean Leaman Junior High School and Churchill Fulshear High School, all part of the award-winning Lamar Consolidated Independent School District, are just a little more than a mile away. You'll find a wonderful choice of private schools as well.
Small Town Charm, Plus Some Big City Style
Fulshear is growing, but staying true to a comprehensive growth plan, zoning restrictions, and citizen-friendly improvements.
So you can enjoy the best of small town celebrations, parades and traditions, plus the energy of exciting new eateries, shopping and leisure spots.
In Fulshear Run the land is beautiful, the lots are oversized and there is plenty of quiet, open space.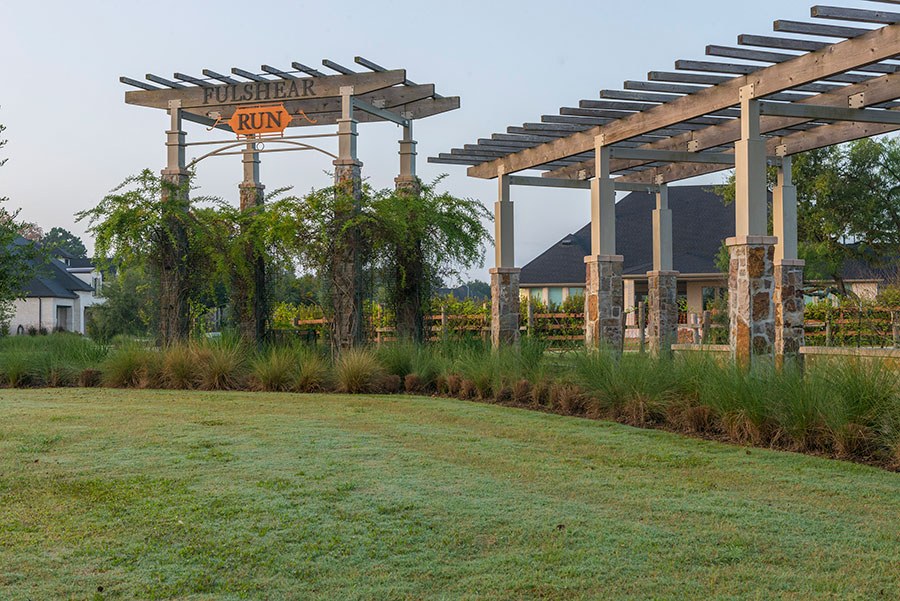 Fulshear Run is located south of the intersection of FM 1093 and Bois d'Arc Lane in Fulshear, just beyond the Farmers' Market, seven miles west of the Grand Parkway, and seven miles south of Katy Freeway. The prestigious Bois d'Arc area is just beyond Fulshear Run, and Fulshear's charming downtown area is a mile west. You'll find it's easier than ever to get here, thanks to the widening of FM 1093 between the Grand Parkway and Fulshear and the extension of the Westpark Tollway.